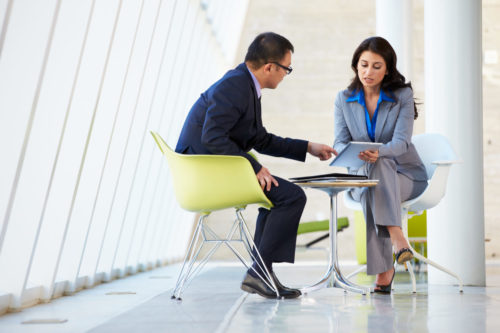 When it comes to professional coaching, there are a plethora of different coaches to choose from. The two most common professional coaches are known as an Executive Coach and a Business Coach.  If you are familiar with these coaching titles, then you may have also assumed they are the same.  You are not alone; many people are not clear on the differences.
In this post, we're setting the record straight! We're sharing what an Executive Coach does, what a Business Coach does, how they're different and how both are of great value.
What is Executive Coaching?
The Definition: An executive coach works one-on-one with an individual to help them tap into their own leadership potential through greater self-awareness, and helping them to improve their overall effectiveness as a leader.
What does Executive Coaching look like?
The Executive Coach works with leaders to help them cultivate and improve their existing skill set. This means that the Executive Coach does not teach, or provide a roadmap, but rather they help the individual discover the actions, motives or personality traits to enhance their effectiveness as a leader.  The most critical component of this coaching style is assisting the person to become self-aware, and aware of others with whom they interact. Greater self-awareness is what unlocks the leader's potential to reach new heights, new goals and achieve greater success.
One of our clients, a successful business owner, came to us because he wanted to ensure he was providing maximum leadership for his team. We discussed his leadership style, his team's style and how his behavior was defining the culture within the organization.  We provided tools from which he could measure success. He had someone to bounce ideas off of, provide encouragement, support and discuss behaviors during conflict.  Executive Coaching assisted him in his path to leadership success.
What is Business Coaching?
The Definition: A Business Coach utilizes tools, methods and concepts that help facilitate growth for the team and the organization as a whole.
What Does Business Coaching Look Like?
A Business Coach employs a process that will help enrich the way you and your team view obstacles or challenges. The goal of Business Coaching is to help the leadership team shift their thought process on how to develop new strategies, make better decisions, strengthen the workplace culture and better align and focus the organization.
Recently, a partner from a successful company came to us because they wanted to ensure that their team trusted one another. While the team's communication had previously demonstrated success, the organization did not have a strategic plan in place. After facilitating a strategic planning session, the organization quickly saw enhancements to the way they do business. We met with them on a quarterly basis to review the goals for completion, and to make sure that action items were set for the months ahead. They have not only enhanced their team communication and commitment to each other, but the organization has also significantly increased their net profits.
The Benefits of Coaching
When it comes to professional coaching, the benefits are truly endless. In fact, research shows that 60% of respondents from organizations with strong coaching cultures report their revenue to be above average.While profitability is always impressive, this is just the tip of the iceberg. Coaching also helps leaders build a personal brand, sharpen their skill set and gain a competitive edge.
Could A Business Or Executive Coach Be The Right Fit For Me?
Professional coaches absolutely span the gamut when it comes to expertise and approach. Depending on your personal needs, or the needs of your organization, an Executive Coach could be the best fit (or vice a versa). But, here's something unique about us: at Jeanne Reaves Consulting, we offer both Executive AND Business Coaching.
Given what we do, obviously we think that both Executive and Business Coaching are tremendously valuable. Have we peaked your interest about Executive and Business Coaching? Do you have a follow-up question?  Please contact us for a free consultation. We'd love to visit with you!